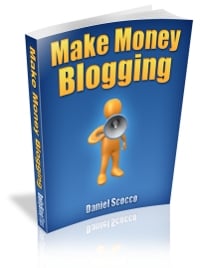 Did you know that you can actually make money blogging!  Yes, it's true…
OK, if you didn't get the hint of sarcasm here then…well, I guess you didn't get the sarcasm.
Anyway Daniel Scocco's story is like many others that have hit 6-figures blogging.  Daniel has put together an ebook, and shared his experiences with you.
Now if you put Daniels' book together with all the other 6-figure bloggers out there you are sure to learn a few things.
I've skimmed through the ebook and it's pretty good.  Some topics up for discussion are…
The three mistakes that bloggers make when choosing a niche.
The three characteristics of good content.
Why your content strategy should have one cornerstone.
The two factors that create magnetic headlines (and how to apply them).
A deadly mistake that bloggers make when designing their blogs.
Practical tips that you can use to network efficiently.
A promotional strategy that most people forget to use.
The two requirements for making money with Google AdSense.
The best trick available to make money with CPM deals.
I rec'd my copy within minutes of subscribing – don't worry, you can always unsubscribe after you get the ebook (and BONUS WordPress Themes) if you don't want to join yet another mailing list.
The ebook starts from the basics (Do I need a Domain and Hosting) to more advanced topics such as type of posts or articles, headlines, content ideas, frequency, promoting your blog, to monetization.
For the new blogger, there is a lot of good information in here and well worth the download.
You can download the ebook from here > http://www.dailyblogtips.com/make-money-blogging/.
Mohamed