So a short while back we posted our early thoughts on SpinRewiter.  It's been about a week that we have been using it and you know what.
Seriously.  It's not just great, but it's frickin' great.
We've run through many articles that we have written, a lot of PLR that we have purchased and grabbed other articles and run them through SpinRewriter and it works like a charm.  That said NO rewriter is 100% perfect and we are having to review the spintax – but after about 15 minutes of changes we are getting anywhere from 90% to as high as 95% original articles from our "seeds".
That's pretty frickin' cool!
Now the other part of article marketing is distribution.  We hate it, so usually outsource it – however it is expensive and every penny counts in this game.  We were were surprised to see that they also offer something called SpinDistribute which will send your spun article for you to 800-distribution points.  They don't provide the list of locations they distribute it, but we usually code very specific author names so that we can track down where our articles end up.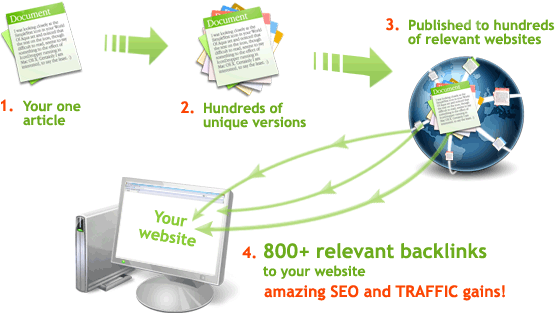 We are trying this service out and purchased 5 credits for $5.00 and it cost us 2 credits (or $2.00) to send out 1 article to 800 distribution points.  Not too shabby.  We'll see how this goes over the next few weeks and what the results are and share that with you.
With SpinDistribute you also have the option of the service rewriting your articles for you.  Yes.  Very cool.
If you would rather not do anything.  Don't.  They will do it for you as they also offer a complete service that offers article writing, spinning AND distribution for a measly $89.00 and it takes 5-7 workdays plus 10 quality articles about your niche.
If you're rather just have the articles you can order 10 for $75.00 – so why not spend the extra $14.00 and have them re-spun and distributed?
SpinDistribute can also distribute to top article directories such as EZineArticles, GoArticles, ArticlesBase, ArticleDashboard and IdeaMarketers but they will need your username and password.  If you are not paranoid, why not try it out?
In the meantime if you want to try it out head over to SpinDistribute and give it a go.  If you purchased SpinRewriter you can log into your distribution account directly from the SpinRewriter interface.